Amateur Radio Station W8MHV

This is the homepage of amateur radio station W8MHV and its operator, Drew McDaniel. I was first licensed at 14 years of age in 1956 and operated as W7CUV until I moved to Ohio in the early 1970s, at which point the FCC issued me my current call. Below and on the following pages, you can see my ham radio interests and activities.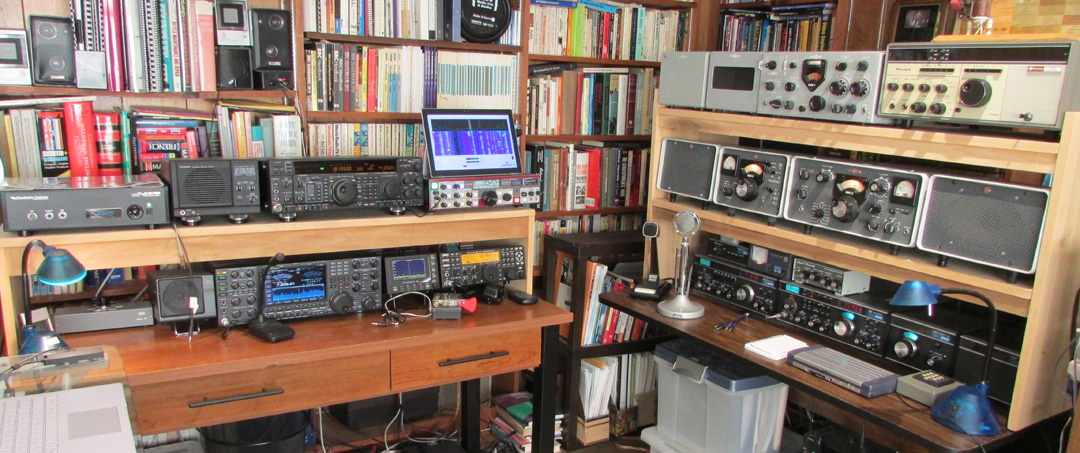 This is W8MHV's primary operating position. On the left desk are the FT-1000mp Mark V Field, DZ Sienna and the Flex-6500 and below are the Elecraft K3/P3, and the Icom7800 stations. The Elecraft K3 is solar powered. On the right desk are the Collins KWM-1, KWM-2, KWM-380, Drake TR5, and TR7 stations.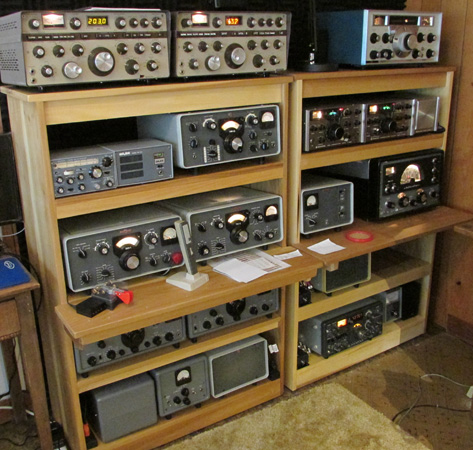 More old time gear can be found here in this "wall of old radios." They include from the top two Signal One CX-7a rigs, HRO-500, Davco DR-30 with speaker, KWM-2A, Kenwood T-599D/R-599D twins, Collins S-line 32S-1/75S-3, Hallicrafters SX-115, Eldico twins, and FT-101ZD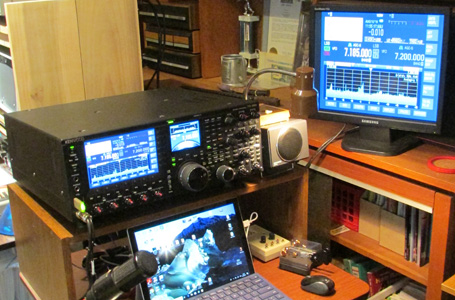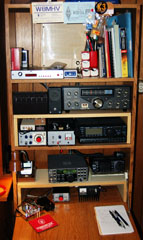 Here is another operating position; this one based on the TS-990s is mostly utilized for serious purposes such as contesting. Other items of equipment in the rack include a Yaesu FT-900, Elecraft K2, Ten Tec Argonaut 515, Alinco DX-70, and an assortment of homebrew gear. Finally, here is the main W8MHV antenna, a roof-mounted Mosely Mini-33b, with my 90 Watt station solar nearby.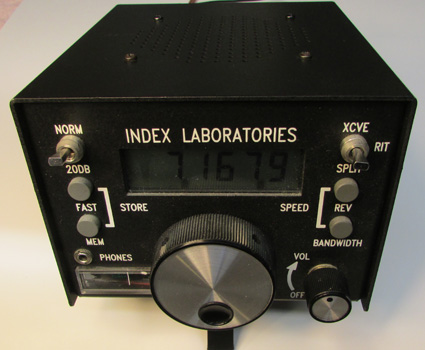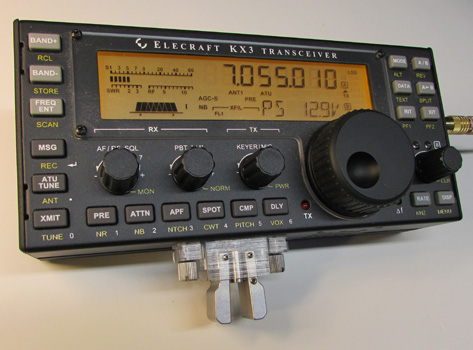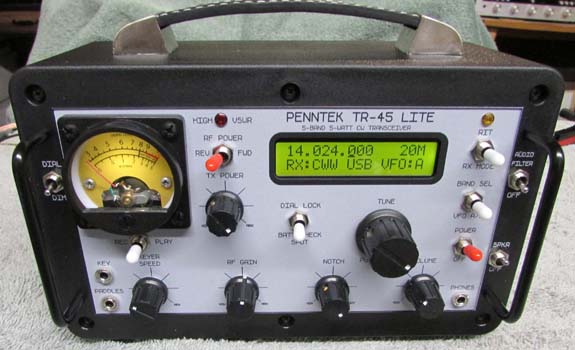 QRP is an interest of mine, and I take small low-power radios like these with me on overseas travels whenever I can . The Index Laboratories QRP Plus accompanied me often in the 1990s, Today, I am more likely to take along either the KX3 or the Penntek TR-45L both of which are excellent field radios. Over the years I have held calls such as VP1DOM, 9M2MC, V8AMR, W8MHV/KP4, EX/W8MHV, and so on. (You can read about that EX operation in QST, May 1996, p. 53.)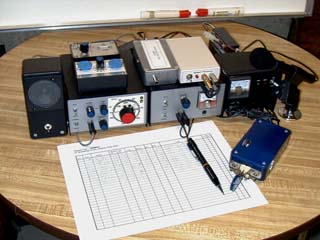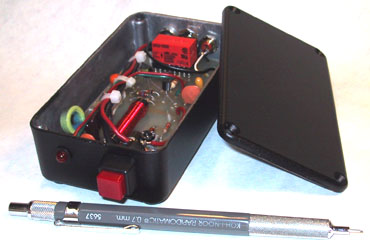 The home-built equipment includes this designed and built-from-scratch sideband and CW station. It runs either 1 Watt in QRP mode or 50 Watts in QRO mode. The second photo offers a look at the inside of the driver portion of the transceiver. The receiver module is on the left and the transmitter is on the right. Another project is this pocket 20 Watt linear amplifier, meant to be used with small low-power transceivers.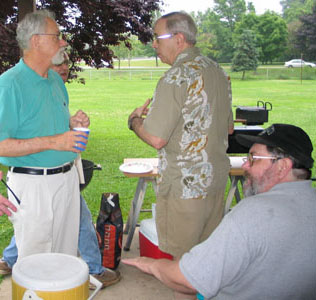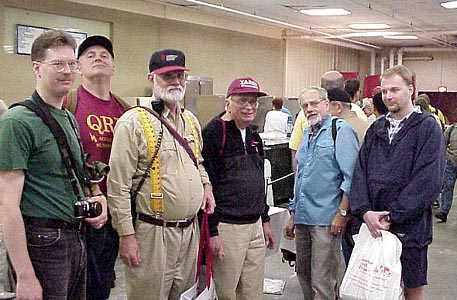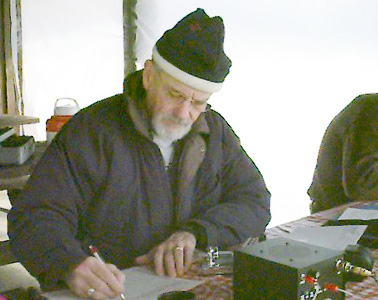 W8MHV is an active member of the Athens County Amateur Radio Association (ACARA), a group he currently serves as Treasurer. Here are some photos of club activities. These are members attending our annual picnic including (in the left photo) W8MHV, N8XWO (hidden behind W8MHV), N8VZ, and KC8OVB (SK). The handsome group of guys next are attending the Dayton Hamvention quite a few years ago. From the left are WD8RIF, AA8EB, W8PG, KB8ER (SK), W8MHV, and Drew's son, Patrick KC2LNP. (Another son, Sean KD5LCH, is not present.) And then there is W8MHV operating in a crazy event called Freeze Your B**** Off which is an outdoor operating contest scheduled in the dead of winter. We also participate in the ARRL10 meter contest each year and host a local competition in that event. Below you see W8MHV being awarded a trophy by club president Eric WD8RIF for winning the local contest in 2022.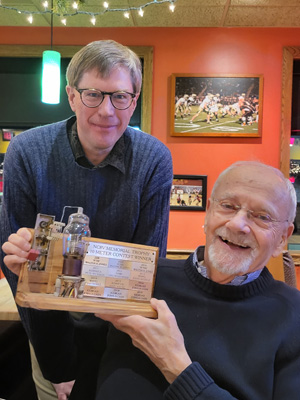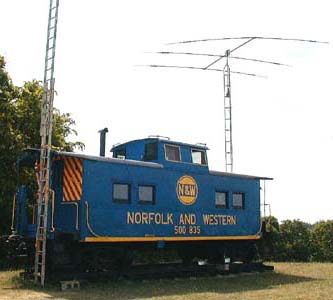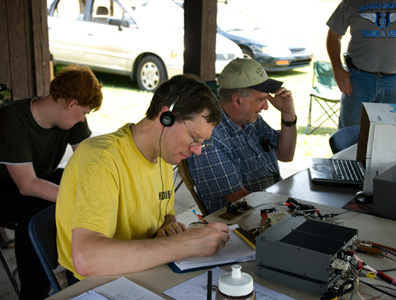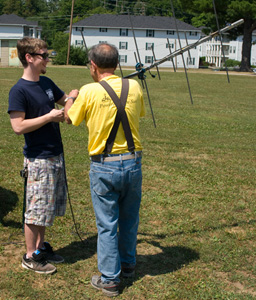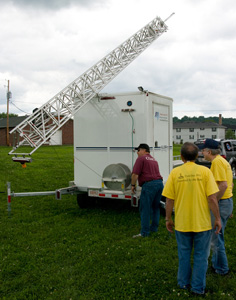 For ACARA, Field Day is one of our most important events. For many years we set up our operation in a caboose on NC8V (SK) John Cornwell's ranch in rural Athens County. Our station was featured in the December, 2001 issue of QST, p. 106. Next is the field day operation in 2012 at the Athens Country Fairgrounds with ACARA President WD8RIF at the controls and KD8FRQ logging. N8XWO shows KD8PKV how to set up the satellite station's yagi. Finally, we see the HF antenna setup using the local 9-1-1 trailer mounted 50-foot crank-up tower.


ACARA also hosts an annual hamfest, one of the most popular small hamfests in Ohio. Here is a panorama shot of our outdoor flea market.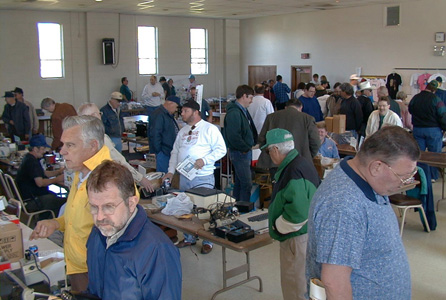 Here is an view of our indoor flea market tables. Our venue is the Athens Community Center, a nice facility. Thanks to Eric McFadden and John Biddle for photos on this page.
Take a look at the W8MHV "Heavy Metal" Station
See my collection of (mostly old) Yaesu Radios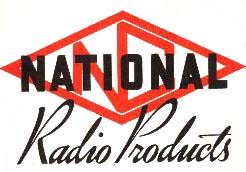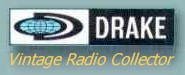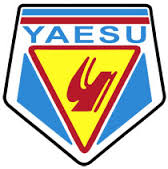 Automobiles and sports cars are another of my interests. To see some of my memorable autos click here.
I have been working and traveling in Southeast, South, and East Asia. For a glimpse of a few favorite places click here.
Thanks for looking. You may send questions or comments to me at dmcdaniel1@ohio.edu.